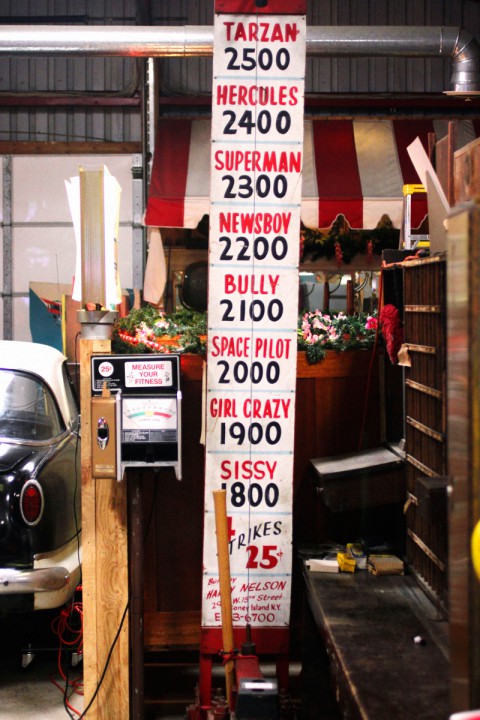 Saw this high striker (that's the amusement industry term, thanks internet) in the game room of the Old Sled Works antique mall in Duncannon, PA.
So — can we take a minute to appreciate the unhinged hierarchy asserted here?
Ok, I get SISSY. Requiste aggro potshot at the weakling. Jock table stakes if you will… after that, though, we go completely bat shit. What the hell is up with GIRL CRAZY? Is that weakness? Distraction? Is it that you are so girl-besotted you can't focus properly on wielding a giant wooden mallet?
SPACE PILOT, which arguably should be at the top, is below the NEWSBOY & BULLY cluster? They can't mean SPACE PILOT in it's Flash Gordon, Buck Rodgers, Han Solo sense. Or astronauts, surely. Perhaps it's the geeky, sci-fi dreamer, the spaceship doodler? Maybe. But it says SPACE PILOT, which I remind you is below NEWSBOY & BULLY. Which is nonsense.
Look, I'm happy that NEWSBOY beats BULLY. But certainly we're overrating the NEWSBOY. Maybe the NEWSBOY loomed larger in the macho imagination back then? But wasn't he always more scrappy than strong? And honestlyI have a hard time believing that, all things being equal, the neighborhood BULLY couldn't take out the local NEWSBOY.
On top of which, if you're just a bit stronger that SPACE PILOT, you achieve the rank of BULLY? What the fuck? Is that motivating?
Then we arrive at the topsy turvy top. Let's establish this, at the very least — by definition HERCULES and SUPERMAN top TARZAN.
In order to referee between those two I guess you could turn to DC comics, which is the only realm where HERCULES and SUPERMAN co-exist. There I suspect you'd find it nearly a dead heat strength-wise. HERCULES has the edge of godhead, and I guess is more universally powerful, lacking both the need for our Sun's light and a vulnerability to Kryptonite. I guess this order stands, then.
But you've got to have a seriously warped sense of awesome to rank TARZAN above both. I'm certain the authors of this ranking did not mean to privilege his Royal roots as a Lord of Graystoke, his facility with languages, or his chivalry.
It's the bear chested gorilla wrestling we're talking about here. The Me-Tarzan-You-Jane over the shoulder while choking a python shit. No Krypton sci-fi nerdiness, or effeminate toga and garland with this guy…
Sigh. To scan this list is to hear Civilization crumble while a stunted macho-ness runs amok. Let's at least, then, establish the correct order, top to bottom:
SPACE PILOT
SUPERMAN
HURCULES
SISSY
NEWSBOY
GIRL CRAZY
TARZAN
BULLY