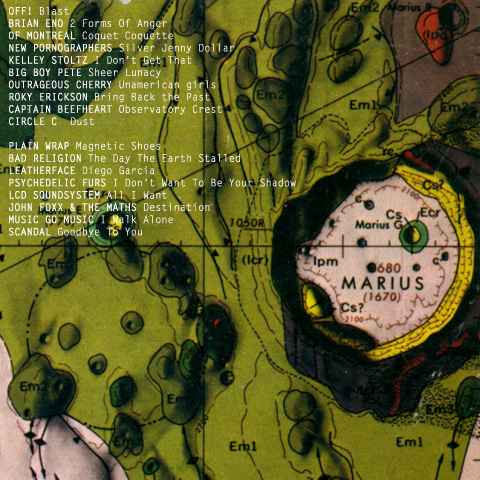 OFF!, in which the Circle Jerks' Keith Morris, 55, records the de facto sequel to Black Flag's Nervous Breakdown EP 32 years later – proving just how elusive pure punk is, creating a flat-out total work of art, and this year's best record. The irrepressible egghead's Small Craft on a Milk Sea has this year's best title and a suite of exquisite ambient constructions, of which "2 Forms of Anger" is the "loud one."
Of Montreal's False Priest was a flamboyant mess sloshing around the precision glam of Coquet Coquette – my favorite song of the year. "Silver Jenny Dollar" is a cat's cradle of baroque obliqueness from Dan Bejar, this time with loungy doo-wop whoah whoahs – the high point of the otherwise okie doke New Pornographers disc, Together.  (Thanks as well, New Pornos, for the tip-offs on Outrageous Cherry and Circle C – the northern lands do hold obscure and wonderful mysteries.)
The 40 years that separate the hand crafted psych of Kelley Stoltz and Big Boy Pete mean little – fitting then that these two consummate craftsmen have found each other. Their co-recording of Pete's "Baby I've Got News For You" anchors Kelley's uniformly excellent To Dreamers.
Bless you, whoever finally digitized "Magnetic Shoes," a one and a half minute spray of power pop silly string that ruled my Walkman in high school. "The Day the Earth Stalled" and "Diego Garcia" are ace sides from old heads… The Psychedelic Furs played the best show I saw this year; honorable, too, going out like they came in, playing blistering sets in smaller halls, rather than jiving for tourists at casinos.
You are a talented man Mr. Murphy. Good to have you back Mr. Foxx.
Music Go Music? Melodramatic Scandinavian pop, shot through with heavy doses of prog, and alternating between pulsing euro disco and lush orchestrated pop – recorded in 2008, released in 2009, discovered in 2010, and my most favorite new band in ages…
I developed a weakness this year for what Robert Christgau, in a helplessly admiring review of Quarterflash's 1981 debut, called "music for stewardesses." "Goodbye To You" is a prime example of the form and its enduring awesomeness needs no further annotation.
Thank you Roky, for returning, and Captain, for being.
DOWNLOAD THE COMP, HERE. Happy New Year!