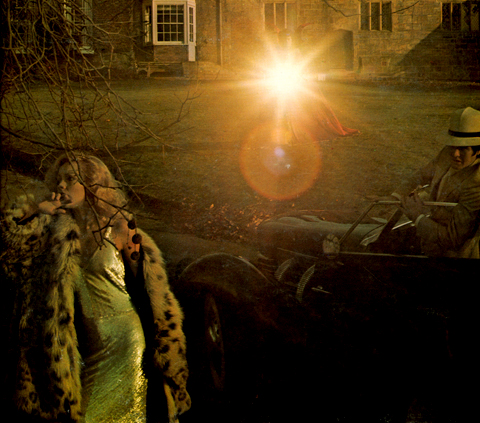 During sightseeing cruises on the Sea of Rock, boats usually cut to half speed and glide by the melting tip of Al Stewart. Passengers look up for a moment as a soft melodic zephyr breezes by…in the year of the cat…
Below the waterline, though, looms a singular body of work. Imagine the following: one axis, stretching from tweedy personal narrative sketches to richly detailed historical episodes. The other axis encompassing the sonic spectrum from acoustic folk to richly layered progressive rock. Spatter the resulting quadrants with random points and you have a working map of Al Stewart territory.
The earliest records, like Bedsitter Images and Zero She Flies, close out the 60's with restless explorations of bookish folk and psychedelia. Lush orchestrations and session work by Jimmy Page, Robert Fripp and Richard Thompson hint at the musical sophistication to come. In 1974 Stewart began a partnership with engineer and producer Alan Parsons (yes, of the Project), who established his reputation helping craft Abbey Road and Dark Side of The Moon. Parsons' contribution was to deploy his arsenal of progressive production flourishes and session musicians in the service of uncharacteristically subtle songs. Together they recorded Modern Times, Stewart's masterpiece, filled with character studies, historical narratives, pop sketches and, best of all, a harpsichord embellished precis of Kurt Vonnegut's Sirens of Titan.
AM radio, Clive Davis, and Japanese super-stardom followed. As those portents suggest, his fame immediately receded. He retreated to wine collecting, his bookshelf, and a boutique recording and touring schedule.
I saw him play a superb show recently at the Colonial Theatre in Pheonixville, Pennsylvania. He looks and dresses like a retired accountant and has the facial mannerisms of Monty Python's Eric Idle. His stage banter was brainy and wickedly funny. He concluded  a long introduction/digression with an aside about the English city of Dunwich, which was slowly consumed by the North Sea. It is said that you can still hear the bells of the church tolling below the waters. That vignette seems to me the essence of Al Stewart; the power of a painterly detail to emit the power of history – whether it be of youthful romantic manoeuvres in a Swiss cottage or the forgotten Swedish invasion of Russia.
A few selections follow. A small sampler can be downloaded here. Enjoy. And remember, the only things left on the beach when the apes take over will be the Statue of Liberty and acres of Year of the Cat LPs.
Bedsitter Images:

Carol:

Sirens of Titan:

If It Doesn't Come Naturally, Leave It: