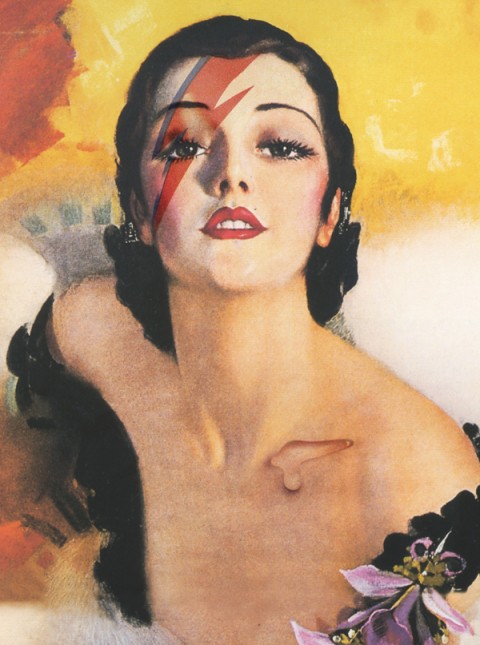 Fascinating! So, I'm searching online for some an image along the theme of "bright young things" to accompany last week's post of Muriel Sparks' poem The Yellow Room. I come across a fragmentary result identifying Evelyn Waugh's Vile Bodies as the wellspring for David Bowie's theatrical, spent, and off-kilter masterpiece Aladdin Sane (Vile Bodies? a hilarious, disjointed 1930's Bright Lights Big City about the careening, hedonistic society set in the 20's… excellent overview here.)
…the notion seemed familiar, like I had read it somewhere, but vague. The link led to a lovingly preserved recreation of a mesmerizing article from a July 1973 Circus Magazine. (On the cover Alice Cooper, Uriah Heep, free Robert Plant calendar, Seals and Crofts, and Marc Bolan)
The article was entitled "Bowie Sees America in Flames – the inside story of Aladdin Sane" This is relatively familiar territory for Bowie-philes… discussing it he's always framed the album as Ziggy goes to America (The Velvet shout-outs, Detroit, Sunset & Vine, etc…) and discovers an near apocalyptic decadence.
In the Circus article, though, Bowie says flat out that the idea for Sane burst from him nearly fully formed while reading Vile Bodies, as the full circus of American rock celebrity and decadent notoriety is erected around him.
David Bowie sat in an overstuffed armchair in his suite aboard the ship Ellinis, returning to London from his first triumphal tour of the States. His delicate brows knit in a look of perplexed recognition as he read Evelyn Waugh's "Vile Bodies" – a 40 year-old, futuristic novel about a society of "bright young things" whirling through lavish parties in outlandish costumes, dancing, gossiping and sipping champagne.  Suddenly David lowered the book to his lap, picked up the spiral notebook and pen sitting on the small mahogany table at his side, and began to write the words to the title song of his new LP, Aladdin Sane

"The book dealt with London in the period just before a massive, imaginary war." David would later confide, touching one finger, with its green-painted nail, lightly to his chin.  "People were frivolous, decadent and silly.  And suddenly they were plunged into this horrendous holocaust.  They were totally out of place, still thinking about champagne and parties and dressing up.  Somehow it seemed to me that they were like people today." But who was the frivolous, romantic young man Aladdin Sane?  At first David merely cupped his hands in a fragile cage and said "I don't really think he's me."  Several days later, Bowie realised who – or rather what – the song, and in fact the entire album, were about.  "It's my interpretation of what America means to me.  It's like a summation of my first American tour."
Knowing this goes along way towards explaining a distinctive stylistic coloring to the record – a dandyish swing that now makes perfect sense in light of the disjointed flapper flamboyance in Vile Bodies. (Songs like "Prettiest Star," the title track, and especially "Lady Grinning Soul" – for your pleasure, below –  are fuller, fed by their associations with the novel.)
Watching him dash away, dragging
an old bouquet-dead roses
Sake and strange divine.
Um-m-m-m-you'll make it
Passionate bright young things,
take him away to war-
..don't fake it.
Who'll love Aladdin Sane
Battle cries & champagne just in
time for sunrise…
The whole article is a must read. There's a great Philly shout out, highlighting that Bowie was "one of the even fewer rock performers to attract a following so large in one city (Philadelphia) that he was forced to play there nine nights in a row." Also, there are walk-ones by Andy Warhol, Lou Reed, Wayne County, Iggy Pop, Cyrinda Foxe and, my personal fave, punk publicist Cherry Vanilla. (profiled a year ago on the blog, here) Seriously, read it.