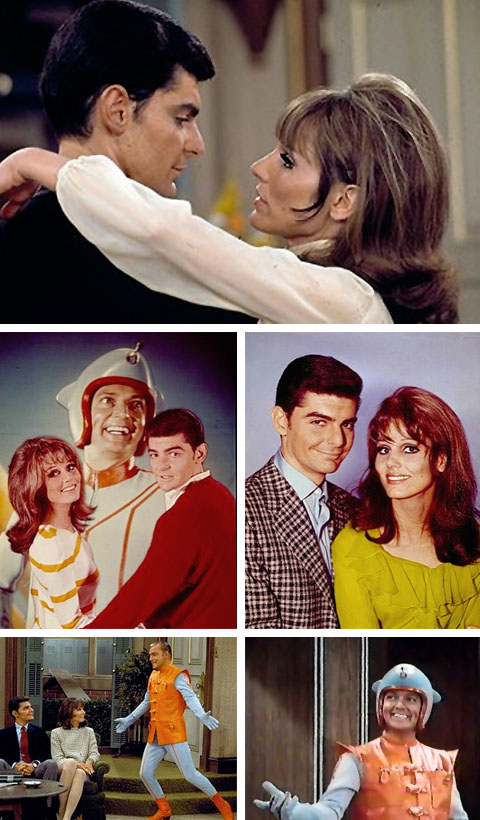 He & She is a lost classic, a fizzy cocktail of a sitcom, with an easy going, effervescent sophistication, and starred one of the most appealing couples in showbiz… I caught wind of it after doing some digging around about Paula Prentiss after seeing her in The World of Henry Orient (itself a real gem of a flick, a quirky mid 70's Upper East Side lark about two precocious teenage girls that form a crush on a caddish conductor played by Peter Sellers.)
It ran on CBS in 1967. Prentiss co-starred with real life husband Richard Benjamin as a young, smart and more than a little goofy New York couple. Benjamin portrayed Dick Hollister – cartoonist and creator of a popular comic strip and TV character called Jetman. Prentiss played his wife Paula, a social worker. In the annals of great screen couples they deserve to be mentioned in the same breath as The Thin Man's Nick and Nora Charles. They're that good – hilarious, effortlessly stylish with an infectious, natural rapport.
Equally distinguished was Jack Cassidy,  Shirley Jones' husband, and, of course David and Shaun Cassidy's dad. He played Oscar North, the obliviously egotistical actor who played Jetman on TV. His every appearance is a veritable one man symphony of flamboyant hamminess.
The show itself is a sheer delight. Great set ups, witty dialog, and a deft mix of comedy, ranging from literate banter, absurdist humor and sheer slapstick. It was cancelled after just one season but in it lay the DNA for everything from the Bob Newhart Show and Mary Tyler Moore all the way to Fraiser. The world is a brighter funnier place for its existence. Also, Prentiss and Benjamin are still together, which adds a really sweet overtone to watching the show.
Sadly, it's never been in circulation on DVD. It floats around in scratchy, ghostly, glitchy versions lovingly compiled off of old broadcasts and VHS tapes by fans. One version can be gotten here, from the amazing folks at modcinema, but searching around is recommended.