This, that, and also, etc… showcases my recent work, enthusiasms & appreciations.
By trade I work as a commercial artist and advertising executive. I run a small operation called Universal Exports of North America, working in close partnership with clients on matters of aesthetics, strategy & management. It's also an occasional publishing imprint & will undertake sporadic retail activity. Open by appointment or by chance.
Until 2017 I served as the Executive Creative Director at Brownstein Group, an advertising agency in Philadelphia.
Artwise, I work in gouache, watercolor, and graphite. Frequent collage work. Occasional photography. In general, the work is informed by some ratio of representational painting, purposeful abstraction, timeworn glamour & faded technology, spiked with pulp & swirled with melodrama.
---
As far as backstory goes — Grew up in Niskayuna, a suburb of Albany, New York. In 1993 I left the University of Pennsylvania with an architecture degree & minors in art history and creative writing. While there I served as the Art Editor of The Daily Pennsylvanian & 34th Street.
I spent the mid '90s out in Los Angeles working amongst the collapsing scenery of the pre-Napster music business. I started out as Barry Manilow's one-man art department, working for his management company, Stiletto Entertainment. It was an exhilarating gig that basically served as my apprenticeship — retouching, design, photo shoots, prepress, the emergence of the web as a medium, media buying, events, etc…
In 1997 I struck out on my own, founding the Daniel Shepelavy Design Company. Around the same time some comrades and I formed The Telegraph Company, a record label, publisher & distributor. We migrated East around 1998 and settled in Brooklyn. We put out a passel of ace records, published a few books, tried to get some movies made, & generally had a blast — just as it dawned on our audience that they could download just about everything for free. By the millennium we, and the biz as we knew it, were done.
In 2001, drawn by romance & affinity, I moved to Philadelphia. I packed up any designs that I had done that were punky, risque or louche and FedEx'd them to Gyro Worldwide (now Quaker City Mercantile) – the anarcho-syndicate agency home of Puma, Kamel, Salem & Winston cigarettes, Sailor Jerry Rum, Bikini Bandits & Delilah's Den of accomplished ecdysiasts. A week later I was working in advertising.
With Telegraph folded, I made good on a long standing desire to start painting again. In 2003 I studied for a few months with the preposterously gifted painter & educator Al Gury, then the head of the Painting Department of the Pennsylvania Academy of Fine Arts. Also I began working through a series of textbooks published by the Famous Artists School in the 60's. Many of the great commercial illustrators – Rockwell, Bob McGinnis, Bob Peak, Al Parker – were on the faculty. It was basically correspondence course for artists looking to learn the commercial pulp/magazine style of illustration in its heyday.
Back in advertising, in 2004 I left Gyro to join an upstart agency called 160over90. There I worked as a creative director for American Eagle Outfitters, Nina Shoes, Loyola University Maryland, Sony Pictures Entertainment, AND1, Nike & SoBe Beverages. While there I helped establish thier now nationally recognized higher education advertising practice.
In 2009 I carved out this modest little lagoon online & set to transmitting. I tumbled into pretty steady blogging for a fat 3 years or so. That led to tumbles & tweets, flattering re-blogs, getting picked up briefly by Another Magazine, corresponded & hat-tipped with some fascinating cats. Some interest in my illustration even led to tryouts to provide product paintings to the legendary J. Peterman catalog. Close, but not quite.
In late 2009, the writing here led to a relationship with the newly published Uppercase Magazine — "A magazine for the creative and curious." It reads like a conversation between folk riffing with ardent enthusiasm about whatever fab things they've drawn, thought, photographed, collected, discovered, etc. No lofty curatorial snobbishness or hipster veneration – just a democratic spirit & a celebration of beautiful things. I got to write about Glenn Gould's crush on Petula Clark, 40 years of synthetic fabric advertising, shaving, baton diagrams, staging UFO pictures & romance novel cover art in the 70's. Those articles and more are collected here, if you're curious. The whole Uppercase venture, gallery, books, blog etc… seem of all of a piece. Well worth it. Explore here.
In 2010 I left to become the Executive Creative Director at Brownstein Group. The shop is Philadelphia's oldest independent, now on its 54th year. I oversaw an absolutely ace studio, where our clients included IKEA, Western Union, Ebay, & Wawa.
In March of 2017 I formed Universal Exports of North America, a small, independent concern under which I consolidated all of my motley commercial & aesthetic endeavors.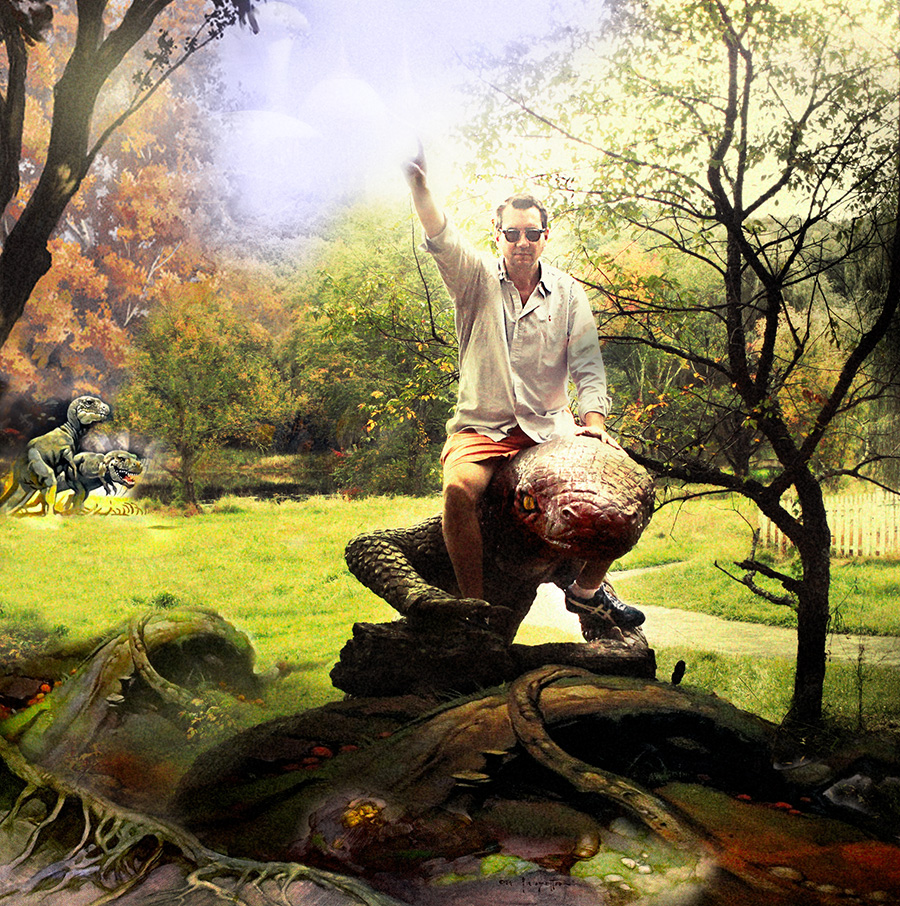 Top: Aboard the bridge of the USS Enterprise (NCC-1701) Bottom: on the grounds of the Frank Frazetta Museum & Estate, East Stroudsburg, PA
I must go to Nature disarmed of perspective and stretch myself like a large transparent canvas upon her in the hope that, my submission being perfect, the imprint of a beautiful and useful truth would be taken… enraptured by a gallant attempt to distill a precious meaning from life's experience – to make a spot on a globe a window into universal circumstance, & to fashion of one's personal chronic tourism a crystal whose facts reflect an entire life…
— John Updike

Pleasure can be radical. In a divided culture, being undivided and synthesizing and connecting across broad areas can be an act of resistance, just as being slow—as in doing things deliberately — walking or biking or cooking from scratch or gardening or sitting around and swapping stories, not being dilatory or sluggish — in a sped-up culture is an act of resistance akin to the work slowdowns that were one form of factory strike.
— Rebecca Solnit

After all, the best pop functions as a liberation even when it's formally received – it celebrates a formula in ways that are audible and infectious.
— Robert Christgau

Some velvet mornin' when I'm straight
I'm gonna open up your gate
And maybe tell you 'bout Phaedra
And how she gave me life
— Lee Hazlewood


The world is beautiful before it is true.
— Gaston Bachelard
Twenty Artists

Gian Lorenzo Bernini

Francois Boucher

Vija Celmins

William Merrit Chase

Joseph Cornell

Marcel Duchamp

Gil Elvgren

William Etty

Jasper Johns

Gustav Klimt

Claude Manet

Robert Rauschenberg

John Register

Francis Picabia

Ed Ruscha

John Singer Sargent

Alexis Smith

Vermeer

Franz Xaver Winterhalter

Andrew Wyeth

Ten Trade Artists
Leon Bakst
Robert Bonfils
Chesley Bonestell
Virgil Finley
Frank Frazetta
Robert McGinnis
Charles Santore
Mark Schultz
James Steranko
Wallace Wood
———————————————–
Darwyn Cooke

Fifteen Books*
Lucky Jim, Kingsley Amis
Madame Bovary, Gustave Flaubert
Mezzanine, Nicholson Baker
Kavalier & Clay, Michael Chabon
Rabbit, Run, John Updike
Wolf Hall, Hilary Mantel
The Bloody Chamber, Angela Carter
Candide, Voltaire
High Fidelity, Nick Hornby
Slow Days Fast Company, Eve Babitz
Songs From The Stars, Norm Spinrad
Watchmen, Alan Moore
À Rebours, Joris-Karl Huysmans
Flashman, George McDonald Fraser
Mars Saga, Edgar Rice Burroughs
———————————————–
Gold Bug Variations, Richard Powers
Orphan Masters Son, Adam Johnson


Ten Photographers
Uta Barth
William Eggleston
Sam Haskins
Dennis Hopper
William Klein
Helmut Newton
Robert Polidori
Ed Ruscha
Stephen Shore
Bunny Yeager

Fifteen Critics & Essayists
Nicholson Baker
Terry Castle
Robert Christgau
Richard Dawkins
Thomas Frank
Dave Hickey
Christopher Hitchens
Robert Hughes
Leonard Koren
H.P,. Lovecraft
Rebecca Solnit
Camille Paglia
Lawrence Weschler
Leon Wieseltier
———————————————–
Pauline Kael

Ten Bands*

Jethro Tull

Bad Religion

David Bowie

Stew & the Negro Problem

Guided by Voices

Iron Maiden

Hawkwind

Brian Eno

Roky Erickson

TSOL

Ten More Bands
La Femme
Ladytron
Men Without Hats
Mary Timony/Ex Hex/Helium
Solipsistics
Christian Mistress
Serge Gainsbourg
Du Blonde
Morrissey
Thin White Rope
Lee "Scratch" Perry
———————————————–
Shellac
Sandy Denny
Ultravox!/John Foxx
Chills

Fifteen Records
Call of the West, Wall of Voodoo
Expressions, Music Go Music
The Snow Goose: Camel
Message From The Country, the Move
Permanent Waves, Rush
Comfort To Me, Amyl & the Sniffers
Red, King Crimson
Rocky Horror Picture Show
Quadrophenia, the Who
Streethawk —A Seduction, Destroyer
Lyres Lyres, Lyres
The Cars, The Cars
Too Much Sleep, Bongwater
Bat Outta Hell, Meatloaf
———————————————–
Pros/Cons of Hitchhiking, R. Waters

Twenty Songs
Baby Sign Here, Henry Badowski
Hazy Shade of Winter, Bangles
Down in the Park, Gary Numan
Find Another Fool, Quarterflash
Golden Boys, Vagina Dentata
Ha Ha Ha, Flipper
Kids In America, Kim Wilde
Metro, Berlin
Never Been Any Reason, Head East
No More Heroes, Stranglers
O Superman, Laurie Anderson
Proper Ornaments, Free Design
Public Image, Public Image Ltd.
Radar Love, Golden Earring
Sat. Nite Holocaust, Dead Kennedys
Sirens of Titan, Al Stewart
Smoke & Mirrors, Evelyn
Sodium Pentathol Negative, Fashion
Total Eclipse, Klaus Nomi

Fifteen Movies*
Repo Man
The Good, the Bad, the Ugly
Gates of Heaven
Star Wars
Lives of Others
Moonrise Kingdom
In like Flint
How to Steal a Million
Bedazzled
Rikki Tiiki Tavi (short)
Queen Margot
Shot In the Dark
10
Scarlet Pimpernel
Everything Everywhere All at Once
———————————————–
Thomas Crown Affair (remake)


———————————————–
  {the bench}
* in order of preference, all others alphabetical
STUDIO

---

Dan Shepelavy can be reached at
~ dan@shepelavy.com ~

Self-published in fashionable
East Passyunk, Philadelphia, Penna.

Programming by Cristian Rivera
Hosted by proxy in lord knows where

To conclude with
Science Fiction Double Feature
~ in full chorus ~

NO MONEY RETURN'D
© MMXXIII — MMXIV