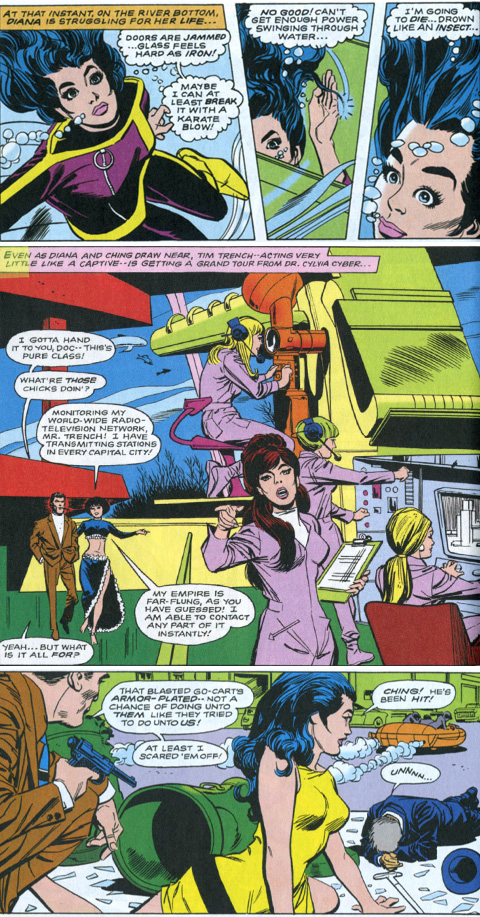 Wonder Woman is really confusing.
Consider the other members of the comic book trinity. Batman: Bruce Wayne, Gotham, detective. Superman: Clark Kent, Metropolis, boy scout. Their essences are schematic. Wonder Woman has been an Amazon and an Olympian. She's been a god, a mortal, and a mix of both. She's Diana Prince sometimes, she's Diana Prince always, she's never been Diana Prince. She had the invisible plane, gained the power of flight, then gotten the plane back – which I guess she uses when… she…umm… flyes back home? Yes home, which is on the island of Themyscira… or is it Boston, Gateway City, New York? Severe shifts in character and narrative continuity are endemic in comics, sure, but this schizoid blackboard eraser approach is more than a little nuts. It has left her less an icon than a notion of one.
That said, one of Wonder Woman's most random, and most enjoyable, phases was her 60's incarnation as a mod boutique owner and secret agent. Pop culture was undergoing a massive collective spy fantasia. Bond movies were at the height of their popularity and surreality. Every flavor of espionage was in vogue – Harry Palmer, Michael Caine's working class spy, Italian comic book adaptations like Danger: Diabolik and Modesty Blaise, and Dean Martin's candy colored Matt Helm absurdities. The genre's high point is probably James Coburn's peerless set of Flint movies (don't miss this extended montage of highlights). They all shared a common widescreen Technicolor palette – mod fashions, mid century modern design, a taste for a splashy op art and the occasional dose of the lysergic. On television, Aaron Spelling's pioneering swinging lady detective series Honey West had just been annihilated by the arrival of a fab new import from the UK – the Avengers.
The Avengers featured the espionage escapades of dapper Victorian John Steed and incomparable hepcat Emma Peel. In Peel, played by Diana Rigg, the genre had found it's female icon. She was a stone cold fox, a brain box, a wit, and singularly, unforgettably stylish. (Peel's wardrobe is virtually a case study in 60's mod fashions – saturated pop colors, geometric patterns and cuts)
Emma Peel became the explicit model for the 60's manifestation of Wonder Woman. She shed her powers and permanently adopted her mortal alter ego Diana Prince. She opened a fashionable clothing store. She rebuilt her fighting skills under the tutelage of her new sidekick, the wise, blind kung fu sage, I-Ching. The art was fantastic – a perfect blend of 50's Romance comics, Good Girl Art, and Dan DeCarlo's Josie and the Pussycats. The result was derivative, obvious, and absolutely delightful. (DC has recently reissued 3 volumes of this era – all are worthwhile, all easily found).