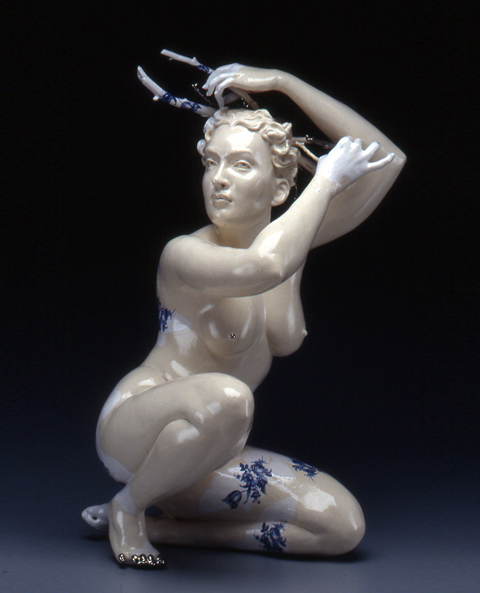 [When the thought occurs, I like to take a peek back at the work of artists I've featured here in the past and see what's afoot. I was sad to find that sculptor Christyl Boger just passed away a few months ago on June 17, 2018. She was 59. Her frisky & fetchingly accomplished sculptures remain a welcome delight and a personal favorite — a loss of someone so technically gifted and imaginatively big hearted is no small thing. In honor and appreciation of her and her work I'm reposting the repost of the original post with some additional images. ]
Swan Float, a sculpture by Christyl Boger was a highlight of a recent show at Philadelphia's Clay Studio filled with strong work: Of This Century: Residents, Fellows and Select Guest Artists. While not pictured, it was of a piece with the work above – a classically elegant, expressive nude entwined with an inflatable beach toy. I was bowled over by its formal beauty, impressed with the perfection of its craft, and amused by its absurdity. The world is a richer place for art that can, without being glazed in snark, simultaneously recall Bernini, Meissen and Koons.
More on Boger's work here. In remembrance of her life, her obituary in the Lansing State Journal, here.