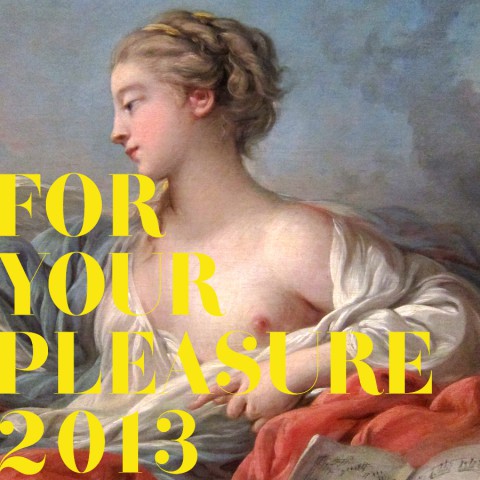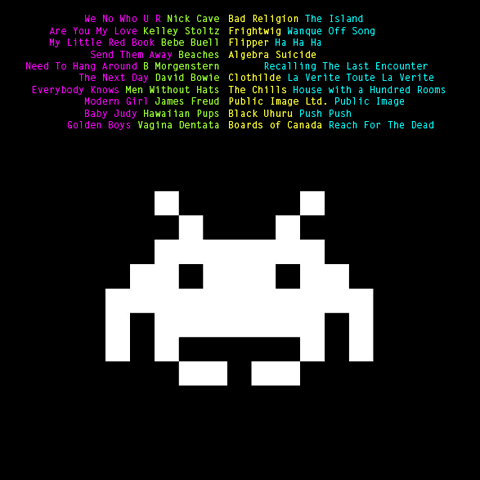 This year was ruled by bands & musicians I hold very dear dropping career defining albums out of nowhere. Albums that were reconnections, reminders & remembrances of their fundamental radness — each, though, indelibly colored by an autumnal mood, recognition of age, time & wear.
I thought the best rekkid honors were done & done as early as February with Bad Religion's exhilarating True North — songs firing like model rocket engines, a compressed crackling burn and then, a minute or so later, lay smoldering. A career capper, a middle age manifesto, and the last classic of mid-80's SoCal melodic hardcore.
Months later I'm in Toronto at a record shop where I finally scored the long coveted debut EP by Men Without Hats. Can that snigger, bignuts — this bands gifts are substantial & buried, like Wall of Voodoo's, under the debris of their sky-blotting single hit. You fucking bet you can dance if you want to…
Anyway — this leads me to wonder what they've been up to recently. The answer? A stunner of a record, Love in the Age of War, recorded in late 2012 (news about MWOH travels slowly) on their original analog gear. It was originally titled Folk of The 80's Part IV, thus deliberately planting it in line with the band's killer run of raw synth records before the more painterly & ambitious Pop Goes the World. Alternately thrilling & poignant, this ruled the headphones for months.
Then Bowie drops The Next Day, the last word on last words as far as Olympian rockers go. Superfan Rick Moody nailed it in a long exegesis for the Rumpus — it's a particularly tuned masterpiece, functioning as a hall of mirrors & memory palace of Bowies guises, obsessions, and, above all, vocals. For the heaviness of its agenda, it's a remarkably unlabored listen — a great batch of songs, carefully & secretly handcrafted then released with Bowie's characteristic savvy. The record cover tells you every single thing you need to know about it, a conceptually brilliant shorthand to a tremendously rich & deep listen.
Weaving amongst these heavies was the year's big discovery — the Aussie all-lady foursome Beaches. Their second album, She Beats, was a swirly, gauzy, fuzzy, fuzzy, swirly, gauzy pleasure. Melodic swells dove in and out of  the din like dolphins, underpinned by a steady motorik beat (Harmonia's Michael Rother guests) The grin-goosing "Chase Those Blues Away" was the tune of the year.
Welcome electronic transmissions resumed from the Boards of Canada & Barbara Morgenstern – bleeps and bloops both heavy and light.
Psych alchemist Kelley Stoltz has long completed his apprenticeship — this years Double Exposure, a fusillade of handmade pop-psych bliss, is a killer follow-up to 2010's equally ace To Dreamers. The spellbinding cover, featuring Stoltz's mom back in the 70's drawing a bow in what looks like hockey pads on a shag rug backed by a large op art painting & a hi-fi, was the year's best.
Spelunking in the shops yielded treasures galore this year — Babe Buell's Covers Girl EP where the fetching groupie (and Arwen Undómiel's mom) is produced by Rick Derringer, backed by the Cars, and covers Love & Iggy; James Freud's forgotten mod/synth mashup, bought on the strength of the cover alone; vinyl versions of high-school mix-tape staples interred for decades on cassettes like Flipper's "Ha Ha Ha," Vagina Dentata's legendary Darby Crash penned "Golden Boys", Frightwig's careening "Wanque Off Song", and Hawaiian Pups' resolutely odd & yet irresistible "Baby Judy."
Nick Cave played the year's best show. A few songs into his set at the Keswick Theatre, Cave, exasperated by the staid & respectful audience, demanded a stage rush. As a result I finally got a sustained barrage of legendary close-up Cave — thin, ungainly, tall & lanky, mustachioed, posture lurching & off kilter, reminding me of no-one as much as a demonic Fawlty Tower's era John Cleese… a gobsmackingly riveting performance.
A few ace re-issues appeared, each a welcome surprise. Dark Entries' collection of the early recordings by Algebra Suicide is a public service, helping to secure the legacy of the formidably talented Detroit Ukrainian poet & singer Lydia Tomkiw. And then a delightfully random Clothilde collection! Clothilde was weird salvo in the barrage of 60's French girl pop, or ye ye. The moodiness of Francoise Hardy, the bubbly delivery of France Gall, set to ramshackle fuzz & harpsichord  constructions reminiscent of Joe Meek. Light In The Attic kicked off the Public Image Limited reissue series with a lovingly reproduced 7" of their debut single, complete with foldout faux tabloid. I've loved this song for over 25 years – it hasn't lost a drop of it's power, originality, venom, or pop and it sounds, as it always has, utterly vital.
I listened to a lot of Reggae on Sunday afternoons. Weird — music just finds you when you are ready for it, I guess.
Then out of the blue ether, the Chills drop Somewhere Beautiful, a rough & crystalline live recording of a small New Years party they played a while back. Prolific, yet sporadically recorded back in the late 80's and early 90's, New Zealand's the Chills were led by the preposterously gifted, big hearted, but troubled Martin Phillipps. Their first singles, and two LPs (especially Submarine Bells) were peerless muscular, shimmering beauties. After a brush with popularity that found them recording with R.E.M. and Van Dyke Parks, Phillipps' crushing heroin habit subsumed the band. Living hardscrabble, he managed only one more proper LP, a demos release and a home recorded 4 song EP since then — all excellent. Then this miracle. The band has more heft & swing than before, and even with a few lovely embellishment the sound is more garage-y than gossamer. Phillipps' voice, though, is a revelation. While still melodically supple, a rawness tears through the songs, the edge of his sharp New Zealand accent present as never before. Each song is recast, invested with new energy, and inflected by real pain & directness. It's a fucking stunner, and hands down the years best record.
DOWNLOAD THE COMP HERE. ENJOY!
cover image: Boucher, François, Allegory of Music (detail) National Gallery, DC