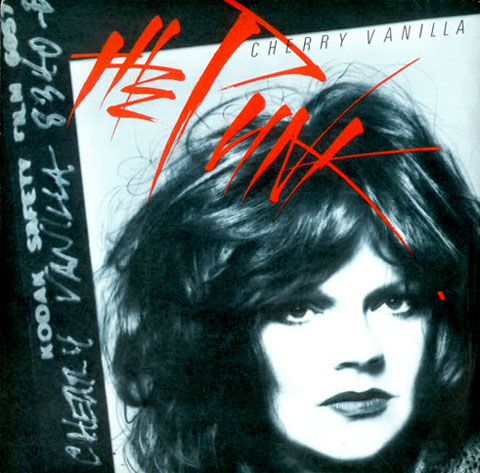 [Reposting this jem in light of two things – finally happening upon the 7″ of "The Punk" in a dusty box under the counter at the endlessly magical Molly's Record and Book Store in Philly's Italian Market, and the publication of Lick Me, Vanilla's deliciously lurid memoirs. Cheers.]
At the Rock n Roll High School cafeteria, Cherry Vanilla was the wild tag-along little sister who sat with the Ramones whenever they decided to attend, and never got over the one time the New York Dolls asked her to share a cigarette behind the gym. But what she really pined for was the part of Magenta in the class production of Rocky Horror Picture Show.
At first, The Punk, her greatest (and single) moment, seems plugged into the same outlet that powers Sheena is a Punk Rocker and Personality buy vicodin 10mg online Crisis – all buzz-saw chords and pounding keys. But what really beats at the heart of this corker is The Time Warp. That is what makes this song so awesome, its utter fakery, its schmaltz. It's not gutter rock, it's musical theatre. It's a prime exponent of the other great strand of New York Punk, the hammy glammy one that gave us Rocky Horror, the Mumps, Klaus Nomi, etc…
Cherry Vanilla was David Bowie's publicist until the mid 70's. After they parted ways she embarked on a short lived rock bender. (In a wonderful footnote, she's also the object of Blondie's catty classic Rip Her to Shreds) All of which is perfectly fitting. "The Punk" is punk written by a publicist – insanely enthusiastic but utterly inauthentic.
Cherry Vanilla — The Punk: