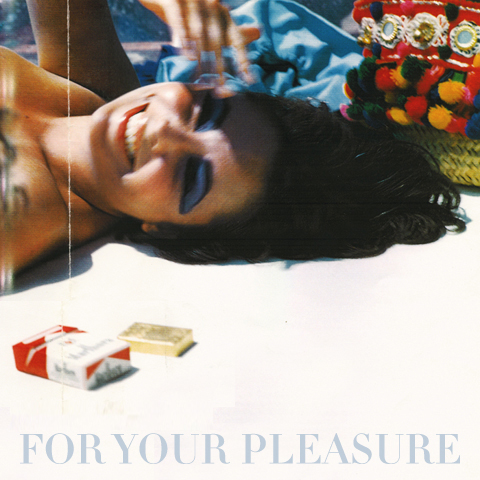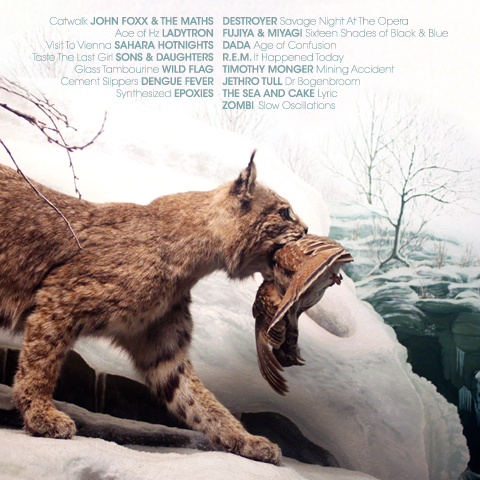 His trailblazing adventures in the wilds between punk & glam & into the then-uncharted waters of minimal synth behind him, ex–Ultravox frontman John Foxx seemingly faded into genteel retirement. He tended to small scale sonic experimentation and lovely ambient soundscapes, like an old general fussing over orchids in a greenhouse. His encounter a few years ago with vintage synthesizer archivist Benge awoke a wanderlust in Foxx. Their collaboration, Interplay, credited to John Foxx and the Maths, is an exhilarating listen – ace tunes rigorously constructed from the essential sounds of vintage synths, played and sung with great muscle and presence. Anchored in the past, with explicit nods to the early, still astonishing, Ultravox, but squarely facing the future. The year's best record.
If you think about it too hard, Ladytron's gauzy, languid Gravity the Seducer seems kind of obvious. Though when you think about most sexy, seductive things too hard they seem kind of obvious. So don't think about it too hard.
in which Sahara Hotnights reveal that, far from the worshiping at the crowded shrine of Joan Jett and Cherie Currie, all long they've been walking in the shoes of Quarterflash. Amen, sisters.
So, this "Genius" feature in iTunes… Color me fogey, but when it comes to music, for me – feh on algorithmic suggestion engines. Except this once, right? –  I had just highlighted a track by Music Go Music, a beloved, rather obscure band who sound at times like ABBA crossed with Van Der Graf Generator. And "Genius" pipes up with this Sons and Daughters. And I think, what on earth does this algorithm think might appeal to fans of Scandinavian pop and arch British prog? The answer turns out to be careening, slashing, lipstick smeared Scottish melodrama. Genius.
Amidst my notes the night after seeing Wild Flag on their inaugural tour: Glass Tambourines = Hawkwind!!!!
Cement Slippers….  the chorus of the year.
Two years ago I wrote that Dan Bejar's Destroyer had checked into some magical Baroque hotel of blissed out self indulgence, across the hall from Jimmy Webb and a drunk Richard Harris. The song that sparked this observation was the 12" single "Bay of Pigs," his "MacArthur Park" – ridiculous, sublime, and drunk. This year's album, Kaputt, was the morning after – drawling, sleepy, hungover and acerbic. Still sublime though… even more so – a true work of art, and almost the years best album….
Sheesh, that Fujiya & Miyagi song is sinister. But what a song…
This year's best-of is all synth on synth with synth shavings in a synth sauce with a side of synth. Even this year's favorite punk rock discovery, Portland's now defunct Epoxies, is goopy with synth. Hell, the song's called fucking Synthesized. Song of the year, though.
Age of Confusion by DADA is one of the best new wave songs ever. Recorded in New York City in 1987 it has since fallen off the face of the earth. That it now drifts on the edges of the web and in the backwaters of eBay, waiting to be found, matters. It's a reminder that the treasures of the past are never exhausted; it also underscores how much that darn fool internet has revolutionized cultural archeology. It's also a bitchin' dance song.
These guys really did land the plane after all. Well done, REM… cheers and thanks.
Tim Monger is an old pal, a deeply gifted songwriter I've known and worked with since the mid 90's. It was an honor designing the artwork for his beautiful, stirring new solo record The New Britton Sound. When I had praised Mining Accident Tim told me he felt it was perhaps a bit slight, and he almost left it off the album. The power of this stunning little sketch speaks volumes about how good the rest of the record is. "You'll be mine when the government falls" – lyric of the year.
This years revelatory remastering of Jethro Tull's Aqualung just confirms what I think every time I listen to it – if this came out now it would be hailed today as the independent rock masterpiece it was 40 years ago. A towering achievement, now expanded by a second disc of recordings every bit as good as the album itself.
Sea and Cake, as dependable as the tides…
As regards Zombi – remember – they say that every generation gets the Tangerine Dream it deserves.
DOWNLOAD THE COMP, HERE, Happy New Year!