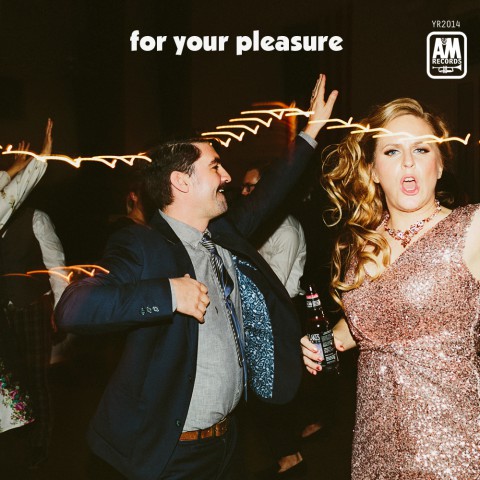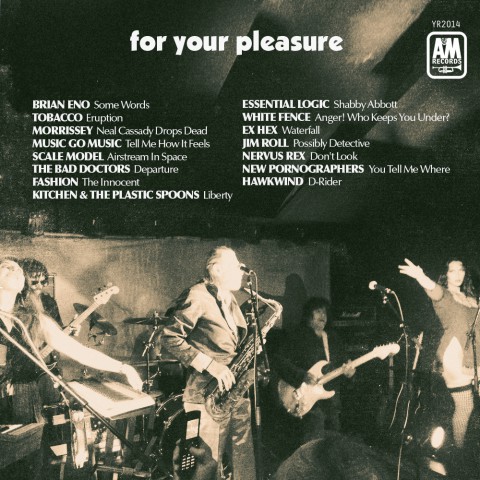 The first thing I ever really used Napster for was to hunt down and assemble Brian Eno's legendary lost vocal album My Squelchy Life, finally given official release this year.
Imagine a crinkled & warped VHS of 80's 1-900 chat line commercials, porny aerobic videos, low-budget soft core, late night cable talk shows, with crackle on the tape, bad tracking, fuzzy scan lines & brutally oversaturated color and you have the feel of TOBACCO's broken, cracked electronica. Unremittingly sleezy but yet so gorgeous & sexy I've spent the whole year fiddling with the tracking dial and not being able to look away.
All the usual camp trappings of oh-so-Morrissey-ness around the release of World Peace is None of Your Business — cancelled tours, bitter press sniping, a humdinger of a snit with new label Harvest that resulted in the album being withdrawn — obscured what a tremendous record it really was. If you told me this was a late period Smiths record from an alternate universe I'd believe you. If that sounds like heresy I don't care — make mine Moz.
If you are predisposed, like me, to thinking ELO could use a little ABBA & ABBA use a little Van Der Graf Generator then I give you, again, after five long years — Music Go Music.
Perhaps six people total in the audience, battling a temperamental glitched out key-tar and yet for 30 minutes Scale Model inspired me to forget that I missed Berlin live this year on account of Hurricane Arthur.
Built from a lego box of identikit parts, every element & reference of the Bad Doctors' synthed punk is obvious. And yet the ingredients never are the dish. I have yet to tire of a single song on this record.
I've been searching for the Fashion B-side Sodium Pentathol Negative since high school. How ace to find that the A side is also the nuts.
It never occurred to me that Goth deserved it's own version of the legendary garage comp Nuggets. It does now. Killed By Deathrock Vol. 1 is a Rubic's cube of bat-cave sounds — Let Kitchen & The Plastic Spoons charmingly spooky obscurity stand in for a record packed full of them.
Stumbled across Essential Logic at long last and the only word I can think of to describe them is fearless – tunes that owe nothing to anything other than their own self-willed need to exist. Punk not as a received sound & attitude but as a response to a challenge & a dare.
There is a permanent psychedelic transmitter on Mount Davidson in San Francisco. You can see it if you squint through two kaleidoscopes. So say the hippies anyway. I can hear it though, now & then and this year they spun a lot of White Fence.
Jim Roll is an old pal from my rekkid biz days. Over the past decade his restless avant-garde flecked Americana has widened & matured. Big heart, big brains, big star.
Every now and then I find myself thinking about RIOR cassettes, these little nostalgia bombs with those flat flood colors, multi-fold j-cards, and stubborn & doomed allegiance to the cassette format. One of the most coveted was the The Great New York Singles Scene compilation, showcasing debuts by Patti Smith, Television, Richard Hell along with period salvos like US Ape, Theoretical Girls & the Mumps. Came across a digitized copy this year and for all the heavy history it was the ace single by Nervus Rex that rang my bell. Like a fling with an old flame, it reminded me of all the reasons I went gonzo for power pop to begin with.
I treasure Mary Timony's every mood, cause every mood begets a tune. Her latest, Ex Hex, is, as she put it "…what your babysitters listened to, rumbling from the Kenwood in the basement." Perfect. Think then, of each song on her new record, Rips, as darts thrown in that very same basement — short, sharp & feathered.
Arriving at last at the intersection of Xanadu & Gerry Rafferty the New Pornographers demonstrate that all you need for a spectacular return to form is an arpeggiator.
The years best show, hand down, was Hawkwind, fronted by 74 year old psychedelic warlord Nik Turner. Flanked by Barbarellas playing vintage synths & violins, with Nicky Garratt from U.K. Subs on guitar, the band didn't play so much as channel transmissions from beyond the fringe; waves of sax & flute, pyramids & atlantis, sonic attacks & deep space, orgon accumulations & high zonk. I got to sing the chorus of Silver Machine with Turner. I grabbed the set list and when I got home I discovered it had Roky Erickson's phone number written on the back.
(Front cover photo by Katch Silva, back cover Hawkwind at the Boot & Saddle, September 9, 2014 Etc: This year I kept the running time under the LP limit. It just seems a decent serving size. As a result, some other notables not represented — still in deep dub, lost in Record Store Day's re-release of Lee Perry's Super Ape, late this year started really digging Colin Newman's first post-wire solo record A-Z; Shellac's Dude Incredible was a barrel-full of monkeys; Ian Anderson's Homo Erraticus tour was a highlight, as were shows by Damned & TSOL; More Chrome & Helios Creed, The Chills BBC Sessions; Sleaford Mods, Cleaners From Venus, Fingerprintz, Palmyra Delran, and when it's time to clean the fishtank, Exploited.)