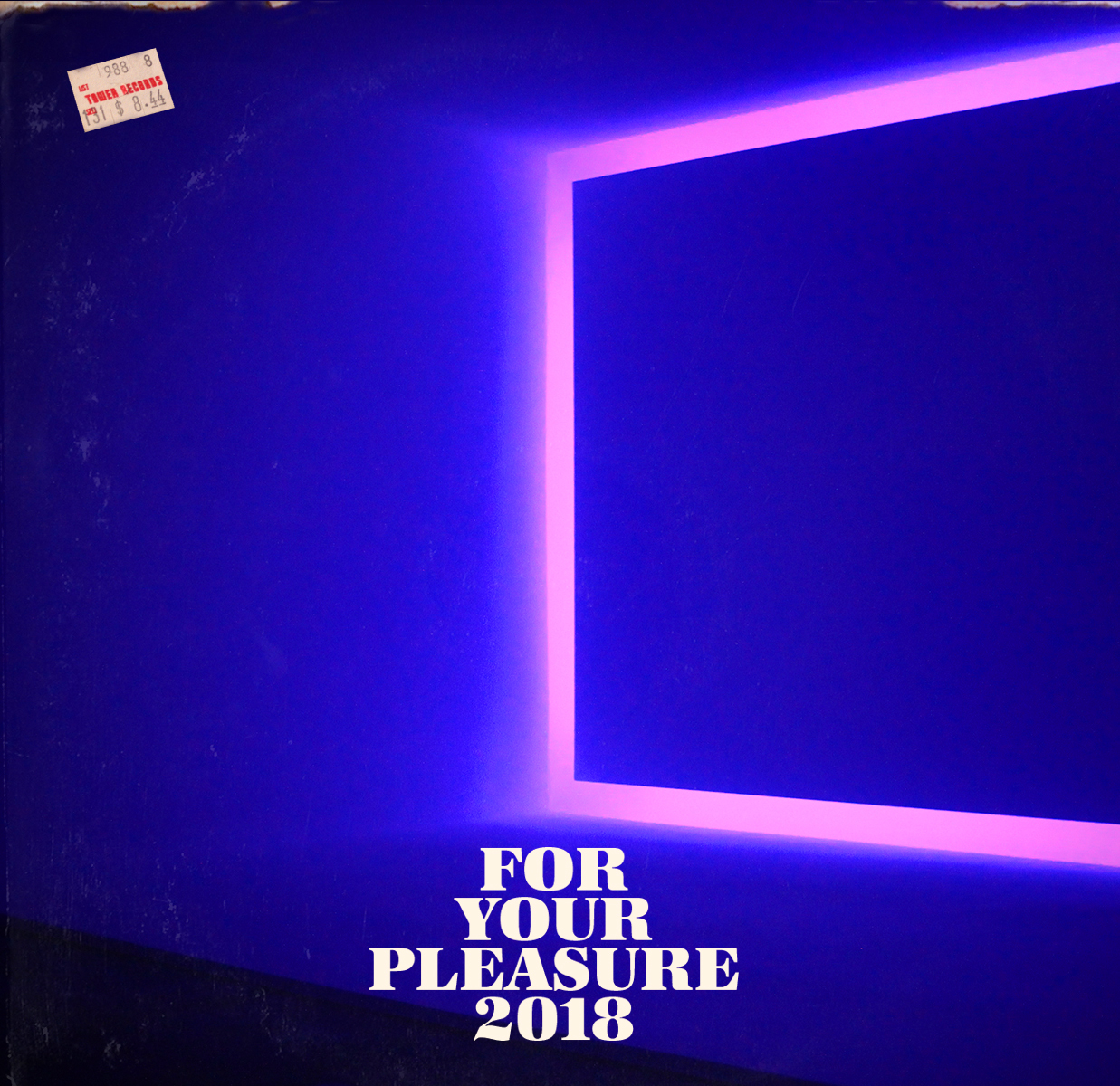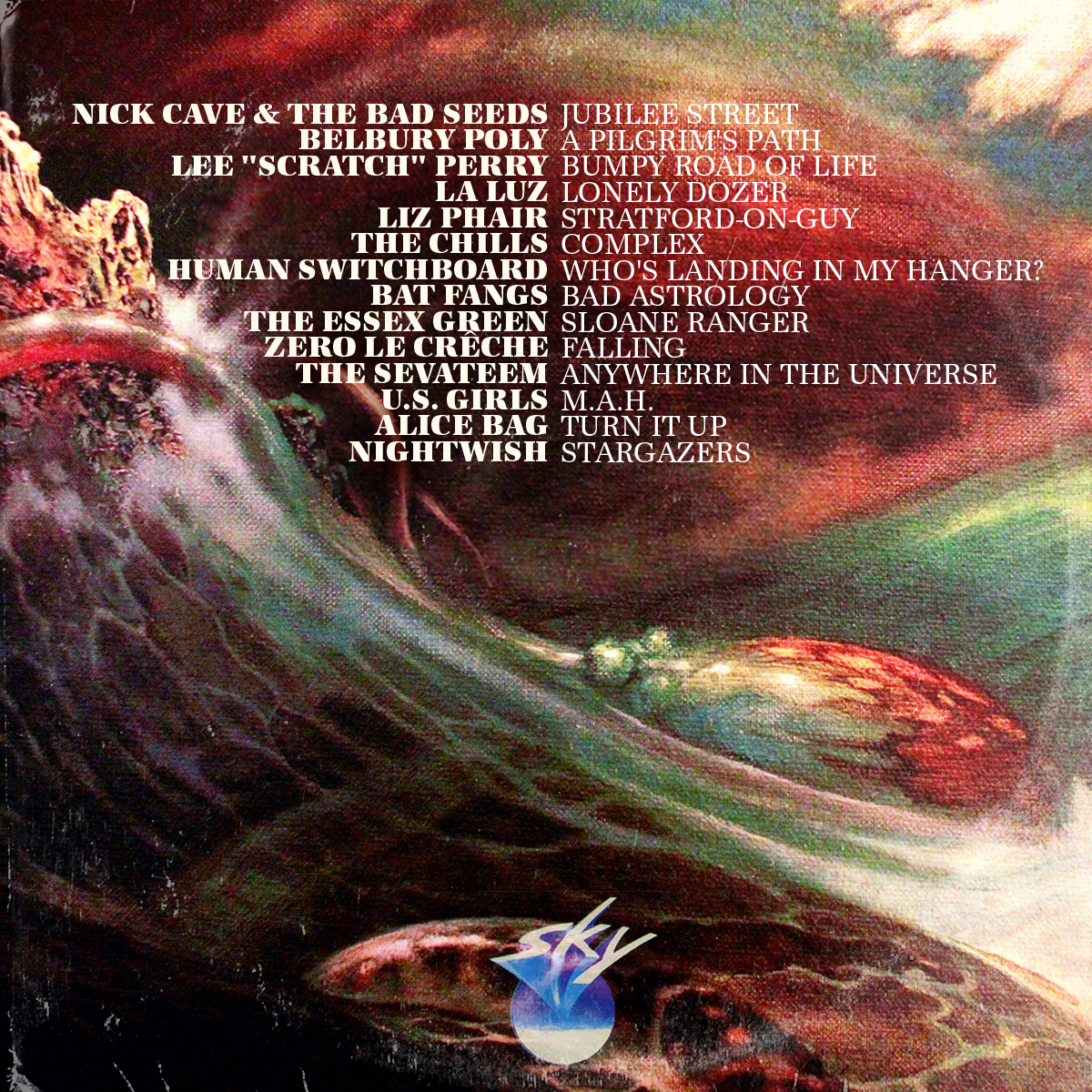 There was a moment, live, as the first half of "Jubilee Street" was rounding the bend that the music suddenly lurched, as if unexpectedly struck with a great force. The band rumbled, then just — detonated; Nick Cave stood, stock still, seemingly absorbing the full force of the blast behind him. Then — he cracked, lengthwise, like a thunderclap. "LOOK AT ME NOW / I'M TRANSFORMING, I'M VIBRATING, I'M GLOWING / LOOK AT ME NOW." For the rest of the night Nick Cave kept scraping the clouds.
Remember the way the locks, switches and gizmos worked in Aeon Flux? Inscrutable components, switches, and dials would click, whirr, latch, and trip in improbable combinations until the lock gave way, blossoming open like a mechanical flower. Belbury Poly's groovy puzzle-box collage instrumentals worked on me the same way – BBC library grooves, spooky Hammer film soundtrack flourishes, tinkling harpsichord, hazy bits of stoned dialog, click, whirr, clank, trip, click, release, besotted. High Church of Geek ambient.
Dunno 'bout you but my theory is that Lee Scratch Perry's Black Album is, in fact, the latest in the series of mysterious dark Monoliths left scattered across the universe by forgotten extraterrestrials lost forever to the hazy mists of galactic time.
Musically, Philadelphia is generally pretty lush, but surf-wise it's a parched, horizon blurring desert. It was fortuitous then, that live, California's La Luz were short a keyboardist, because guitarist Shana Cleveland just flat tore up — shredding, barreling, spraying gnarly surf leads all over every tune. A mirage on fire, a mirage dressed in fetching matching sailor suits, on fire, to be precise. It was awesome. On the Bandcamp page for this year's Floating Features, one "Ingwit" sought to congratulate La Luz "for somehow managing to take the heat shimmer on a long stretch of summer blacktop and press it onto vinyl." I'm with Ingwit – well put, and well done ladies. \shaka/
My enthusiasm for Liz Phair used to run from the beginning of the song "Supernova" to the end, peaking with "Your kisses are as wicked as an F-16. And you fuck like a volcano, and you're everything to me." Maximum hella romantic!  "Stratford-on-guy" randomly unspooled one afternoon from the depths of my electric phone and I was totally mesmerized. What a weird, gorgeous fever dream. I immediately played it a few more times in a row, hungry for its hypnotic incantations. "It took an hour, maybe a day. But once I really listened the noise just fell away." Nice then, that this little epiphany coincided with this years' 30th anniversary of Exile in Guyville releases. I guess I'm finally far enough from Guyville to dig the exile.
The recently revivified Chills have been a deeply welcome gift these past few years. On his new record Snowbound, Martin Phillips finally leaves behind his legendary cache of demos and sketches he's mined for nearly four decades. The new, freshly written songs are largely a collective atonement – grappling and reconciling with years of travails, addiction, sundered relationships and shredded dreams. "Complex," while rooted in those themes, utterly transcends them, emerging as one of best songs in an already storied songbook. A giant tune, a world in miniature, a new wave roller-coster inside a snow globe. Literally literally.
It took a while, but I finally fully grok and groove the jittery, grimy white heat rhythms of mid 70s New York City punk and their sonic cousins in likeminded boroughs. Human Switchboard's Who's Landing In My Hanger LP was a crate-digging score based on a recollected shard of a positive review from an old Trouser Press record guide. What a blast! NYC by way of Cleveland like the Dead Boys, it's all glorious fan-fic takes on Deborah Harry and Lou Reed stylings, Modern Lovers primitivism and Television's ramshackle ambition.
The first fang is is for all the rad bell-bottomed boogie bands led by badass lasses this year: Lucifer, Death Valley Girls, Ruby the Hatchet – non of whom, however, could match the bite of fang two – Betsy Wright. Wright took a break from being Mary Timony's swashbuckling wing-woman in Ex Hex to grand marshal the 28 minute hesher parade that is the Bat Fangs LP. One of their t-shirts depicts a screaming bat with three yellow eyes, ears pointed like spikes, surrounded by concentric bands of melting neon. Every song on this record sounds just like that bat looks. Live — goodness gracious — Wright is a sneering, kicking, grinning, soloing, guitar-pointing total fucking rock monster. She also has a supremely boss collection of catsuits, boy's small-town athletic shirts, and vintage metal T's. Between the chops and the flair Wright might be the foxiest performer I have ever seen on stage, ever. When we need someone to represent *rock-n-roll* to aliens, send Betsy Wright.
In 2002, on Halloween, the Essex Green played a CMJ Music Marathon showcase at CBGBs dressed as the Royal Tenenbaums. Their autumnal reunion this year was a welcome occasion for this aging hipster to revisit a time when everything about that sentence was still fresh (or simply existed.) And I never tire of their erudite preppy boho fixations ("Slone Ranger" indeed) nor the burr in Sasha Bell's voice.
With the release of Silhouettes and Statues Goth rock finally has gotten its archeological exhumation — the results of which are as dense and indispensable as the full Nuggets box set was for garage rock. Released in mid-2017, it's taken me the better part of a year to explore its murky depths. Treasures and pick-ups abound, (amid swaths of utter muck – nothing rots like bad Goth) Zero Le Creche's glammy-boomy obscurity "Last Year's Wife" led down a hidey hole to the wonderful Psychedelic Furs/Bauhaus (right? right.) mashup of "Falling" which dominated the front half of this year's groovin'.
This year the Sevateem self released Caves, a 16-track indie-electronic pop album inspired by an iconic classic Doctor Who episode from the early 80s. In "Anywhere In The Universe" the Doctor's companion wonders why he never takes her anywhere nice. (The rationale for the spareness of description, of course, is that even plainspoken it will either engender waves of high geek appreciation, or remain as profoundly un-compelling as the manner in which its been described. Care for a Jelly baby? )
When I first tuned in Meg Remy's US Girls were a profoundly insular affair, jerry-rigged transistor-kit transmissions of girl-group glitch outs. But recently she's pointed her antenna towards the outside world, moving from secret wavelengths to broadcast frequencies. Her sound has filled out, shaped by wily and pop savvy comrades with some seriously deep chops. Live, touring behind her astonishing In a Poem Unlimited, I kept thinking of, honestly, Bowie. Bowie the avant grade pied piper, moving from station to station, seducing listeners into his jangled, cut up art along danceable grooves and modern love. Remy's weird is going pro.
Alice Bag's reemergence has been absolutely exhilarating. Bag was a major dynamo in the early LA punk rock scene, fronting the band the Bags, appearing as the Alice Bag Band in the seminal Decline of Western Civilization documentary, running wild in the streets with accomplices like Belinda Go-Go, Patricia Morrison and Pleasant Gehman (go google 'em all). She later worked for many years as a teacher, while remaining politically engaged as a Chicana and feminist activist. In 2016 she released her first solo record (and first LP ever, considering the Bags never released more than a few singles) and it was a total knockout — a swaggering blend of snarling punk, brassy girl group and Mexican folk. The record was personally and socially political – a bracing reminder how essential and genuinely inspirational punk could and can be. This year she released Blueprint, a another equally urgent and beautifully arranged salvo. Live, the double barreled opening of Bag's classic "Babylonian Gorgon" into the new "Turn it Up" was seismic — raw, snarling righteous punk bliss as urgent, and more necessary, than ever.
Ok – straight up – The last track will be of limited or little interest to some, perhaps many. I thought it would be of limited interest to me, to wit — Finnish, operatic, power metal. Again — Finnish, operatic, power metal. Perhaps the phrase repels? For me it beckoned – strictly at first, as a curiosity. Encountering a passing reference to this curious amalgam I was led, as all quests for the essence of Finnish, operatic, power metal do, into the realm of Nightwish. First I read, amused; then I listened and was — utterly delighted (that is, while listening I experienced a high degree of gratification and pleasure.) It was gloriously absurd, but breathtaking in the scope of its foolhardy earnest bat-shit-ness. I immediately ordered their 1998 album Oceanborn, roundly considered definitive. While I waited for it to arrive I did experience a spasm of second guessing, a shuddering sense of "Surely not seriously." One spin through Oceanborn's rainbow laser glitter symphonies and I was even more delighted – that is, experiencing even higher degrees of gratification and pleasure. I could go on, and on, and many do, the earth over (Vice Magazine even prepared a thorough guide to the world of Nightwish, should you, um, wish.) Then I saw them live. Fucking lords of Asgard they were astonishing!! 6 magnificent Vikings by way of Marvel 's Jack Kirby or Branagh's Thor — a chimera of Iron Maiden, Meatloaf and Brünnhilde fronted by a legit Valkyrie named Floor Jansen! Every song sounded like 20 technicolor rockets red-glare, even before they actually fired 20 technicolor rockets from the stage. Again. And again. A Ragnarock of delight, gratification and pleasure.
DOWNLOAD THE COMP HERE.
BONUS COMPILATION: This year also marks the 10th year of consecutive yearly mixes. As such, I'm commemorating this anniversary with a special compilation featuring a track from each year. Unlike the main mixes, which mix new, live and discovered music of the past year, each track here was released in the year it represents. Enjoy, cheers, etc.
DOWNLOAD HERE.