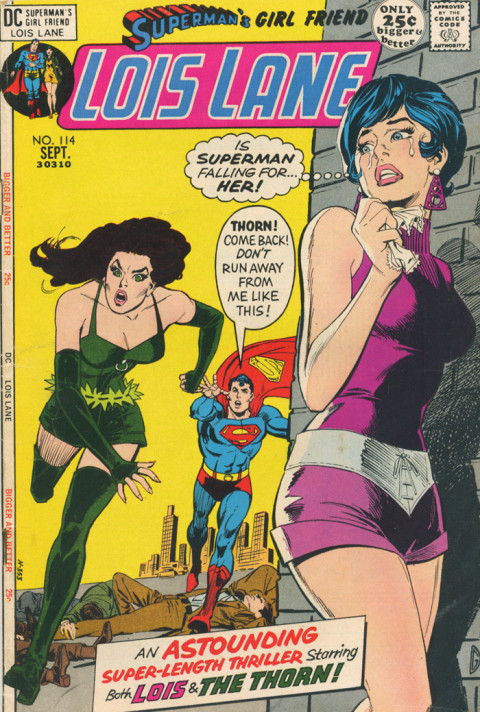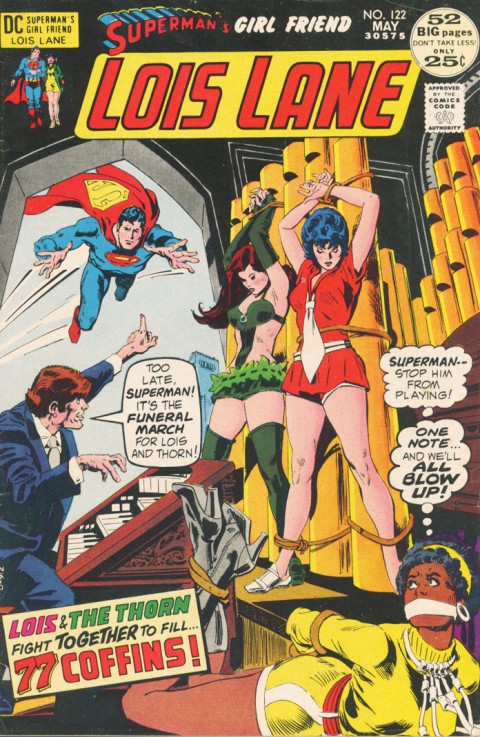 Now these are a blast. Superman's girlfriend Lois Lane in the late 60's and early 70's underwent a kaleidoscopic recombination of her character. It was a result of a desire by DC Comics to extend the line of superhero stories to girls who were captivated by romance comics. What they arrived at was an exuberant pop cultural mashup.
The comics are a swirling melange of styles – the overheated emotional sakes & teary cliches of the romance yarns; the can-do spunky mystery vibe of Nancy Drew. Light moments of the basic superhero world blow in and out, and sometimes there are gales of sci-fi weirdness. Compositionally, it's the classic Lichtenstein/pop art configurations, and the art is as fine an example of va-va-voomish good girl art as you could hope for.
Wonder Woman was swept up in these currents as well – reconfigured as an Emma Peel-eque Mod avenger. Also, great fun. I wrote more about that era here, and the books were recently collected by DC. For Lois Lane, you're still gonna haunt long boxes.
(Also to those interested in this confluence of styles and sensibilities there's a great site that explores them – Sequential Crush, which is a blog devoted to preserving the memory of romance comic books and the creative teams that published them throughout the 1960s and 1970s. The woman who edits it, Jacque Nodell, also published a PDF of a lecture she gave on the topic. It's called The Look of Love – The Romantic Era of DC's Lois Lane, Supergirl and Wonder Woman. It's a great read, smart, and replete with well chosen art. The blog is just as ace. Go, poke around.)