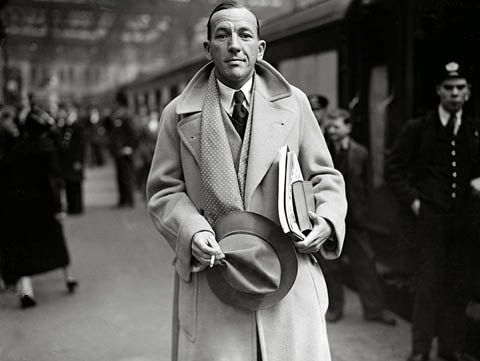 Last August, Morrissey was a guest DJ on LA's KCRW and closed his set with the greatest song he never wrote, "There are Bad Times Just Around the Corner" by Noel Coward. In honor of Morrissey's upcoming new record and best cover art ever, here's a short, unlikely tale of cabaret and espionage.
In performance the critic Kenneth Tynan described Noel Coward this way – "…he padded down the celebrated stairs… halted before the microphone on black-suede-clad feet, and, upraising both hands in a gesture of benediction, set about demonstrating how these things should be done. Baring his teeth as if unveiling some grotesque monument, and cooing like a baritone dove…. If it is possible to romp fastidiously, that is what Coward does."
So hold in your mind this picture of Coward as a fastidiously romping baritone dove when you consider this next biographical detail. Coward, it turns out, was a British secret agent during World War II. His exploits are detailed in a fantastic essay in the New York Times Book Review. He was trained in Bletchley Park, the legendary secret spy training center where tweedy teams worked feverishly to crack the German Enigma code. He used his European cabaret tours and invitations to diplomatic functions to sift for intelligence. He was sent on a mission to Hollywood and paired with fellow spy Cary Grant. He took dinner with Roosevelt and his clearance came from Churchill himself.  As he put it, "Celebrity was wonderful cover. My disguise would be my own reputation as a bit of an idiot … a merry playboy."
To ponder his biography is to imagine possibly the single greatest movie never made –  a spy thriller, splashed with Technicolor and debonair wit, set in Europe and Hollywood amongst the glitter of high society, reaching to the highest levels of power, its suspense and heavy stakes lightened by swaths of swaggering cabaret.
As a bonus, here, for your delectation, is "There are Bad Times Just Around the Corner"